Rebuilding rotted out entry door threshold
strawmyers
on Sun, 02/10/2013 - 19:11
(updated 02/10/13 - 02:13)
There's a west-facing exterior door off of our living room that constantly gets pounded by rain/snow. I knew there was a water infiltration issue because I've seen some water on the tile inside the door during rain with heavy winds. Also, the aluminum threshold felt a bit spongy when I'd step on it. This part of the house is an addition that the previous owners had put on probably 10-12 years ago. We've been in the house about 1.5 years, now. I bought a storm door this weekend to help block moisture from getting onto the sill. Decided before putting the door up that I should investigate the spongy sill to make sure nothing needed done that would require me to have to take the storm door back off. Took the aluminum sill off; and the wood under the sill and underlying subfloor were completed rotted out. Same thing with the lower part of the door jamb once the alumimum flashing was removed. Here's what it looked like once I cleaned out all of the rot: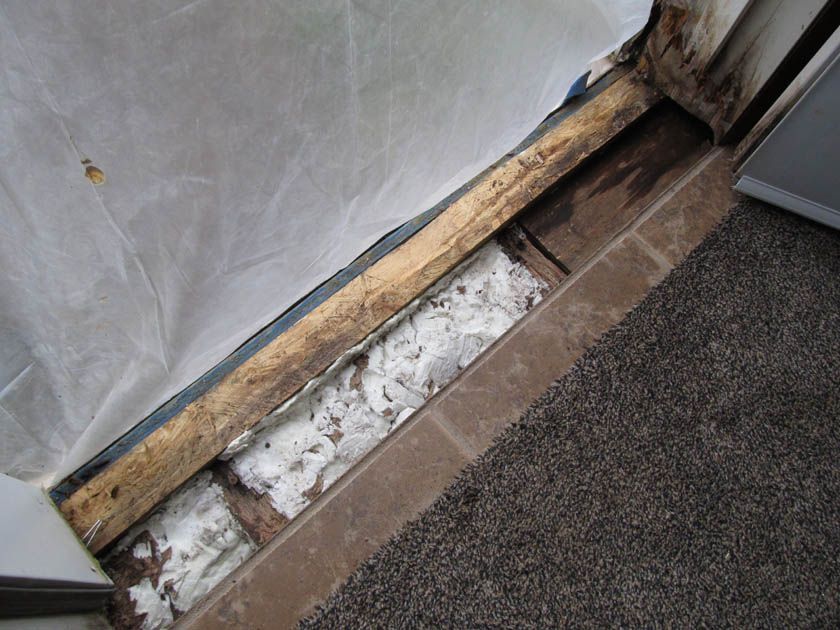 The thin strip of subfloor toward the front that isn't all rotted out is one I replaced over a year ago when addressing another water issue from a window next to the door. You can see the two floor joists on either side of the middle cavity. I need a sturdy base to build a properly-designed threshold off of; but without ripping up the tile to get to the adjacent floor joists. I can't bridge across from underneith because the crawl space has been encapsulated with spray foam.
I'm very experienced with metal work; and have all of the asssociated tools (plasma, welders, etc). I'm thinking about making a plate from 1/4" mild steel that can fill that space where the subfloor used to be. It would be screwed to the two exposed joists, and have bracing on the underside that would keep the unsupported ends from ever going anywhere. My thought is that this would allow me to adhere some 1/2" plywood to the 1/4" plate with construction adhesive to build it up even with the rest of the subfloor, then do a water-proofing sill tray (suresill?) on top of that and a new aluminum tray with composite material on the underside instead of wood. Also need a new door jamb, obviously; but the questions regarding that will be in another thread to try to keep this on topic. Thanks!